Leaders – open these four windows to achieve outstanding team results
Move beyond one-size-fits-all management approaches by using this practical method to redirect your actions as a leader in a focused and purposeful way. The Leader's Window, now in a newly expanded and updated edition, presents an authoritative system to help you give your employees what they need, when they need it, in a form in which they can use it.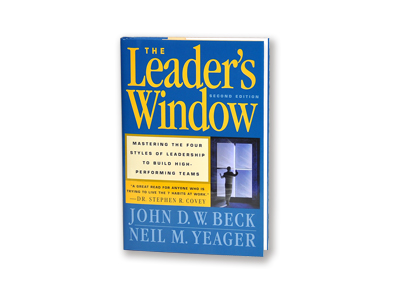 New and updated leader profiles and case examples illustrate the variety of winning ways used by high-profile leaders, while stories of misguided leadership show pitfalls to avoid. Executives and managers can identify the styles they think they use and solicit feedback to see how they come across to the troops. Most important, this book gives leaders the road maps to empower individuals and orchestrate positive group dynamics to create high-performance teams.
With new information on managing Generation X and adapting to diverse personality types, this classic resource presents the strategies you need to make the most of individual capabilities and simultaneously achieve team goals. Charts, action lists, cases for reflection, process plans, performance contracts, self-assessments, and tools to create baseline leadership measures provide the help you need to harness the potential of each worker and transform that potential into results-driven teams.
John D.W. Beck, Ed.D.
is a director of the Charter Oak Consulting Group based in Connecticut. Founded in 1986, this management consulting firm specializes in strengthening organizational performance through leadership, teamwork, and organizational effectiveness. Beck is the creator of The L4 Leadership System, which has helped thousands of organizations worldwide meet challenges and address business opportunities.
Neil M. Yeager, Ed.D.
is a director of the Charter Oak Consulting Group. With 20 years' experience as an organization development consultant, he specializes in executive leadership development through individual and team coaching. Clients include Alcoa, Bear Stearns, Compaq, and Carrier. Yeager is author of several books, including Power Interviews, a national bestseller.
CONTENTS
Windows on the World of Leadership / The Four Windows of Leadership / Window 1: The Leader as Director / Window 2: The Leader as Problem Solver / Window 3: The Leader as Developer / Window 4: The Leader as Delegator / Your Personal Window of Leadership / Leading by Anticipation / Viewing Followers Through Their Window of Potential / Creating Windows of Opportunity with Your People / Seeing the World Through Other People's Windows / Creating Positive Group Dynamics
"Reader-friendly, immensely practical, well illustrated. Illuminating! The Leader's Window takes the highly successful Situational Leadership model to a whole new level. Then it brilliantly applies leadership styles to the four-phase process of building high-performance teams. This book is a guide to the aligning and empowering roles of Principle-Centered Leadership. A great read for anyone who is trying to live the 7 Habits at work." - Dr. Stephen R. Covey, author, The 7 Habits of Highly Effective People