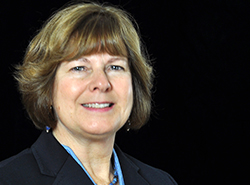 Elizabeth has been with Charter Oak from its inception in 1987. She's currently responsible for Charter Oak's on-line assessments in all parts of the practice:
Leader's Window Assessments
360˚ Degree Feedback
Teamwork Assessments
Organizational Assessments
She also supports Leader's Window licensees at many companies and universities. Instructors around the world rely on her to administer the L4 Self and Other to their classes and get the feedback reports, LW participant manuals, and Leader's Window books to their training facilities. In this capacity she also consults with many participants, feedback givers, instructors, and program coordinators about all aspects of the training.
Elizabeth helped develop the Leader's Window training and assessments and the Communication Skills for Leaders training, and she delivered both for many years. She also facilitated indoor and outdoor team building events with a wide range of clients.
Currently her biggest clients are Accenture, the Big River Consulting Group, Brightstar, The Travelers, and the Sauder School of Business. Other big clients over the years include Addison Wesley, Consulting Psychology Press, The Hartford, Harley Davidson, Leadership Greater New Haven, McKinsey & Company, Physical Therapy and Sports Medicine Associates, Pricewaterhouse Coopers, Southern New England Telephone Company, and the University of Hartford.
In 1987 Elizabeth earned a Masters in Organizational Behavior at the University of Hartford where she also assisted with courses on Dynamics of Group Decision-Making, Communication Skills, and Power & Collaboration. Before that she graduated from the University of Connecticut with a degree in Physical Therapy in 1978 and worked at Hartford Hospital as a Physical Therapist, and Supervisor of the Acute Care Rehabilitation Unit. At that time she was also a Clinical Instructor for the Department of Allied Health professions at the University of Connecticut.
Elizabeth is married, has two adult children – Laura and Andrew, plays tennis, skis, and loves books, movies, plays, and a wide variety of card and board games.